The Altshuller Institute for TRIZ Studies hosts a number of BLOGS to promote discussion and exchange of ideas in the TRIZ community.
Problem Solving Using TRIZ in Manufacturing
We've got a problem and we need your help. I hear that from time to time from my children, my scouts and from my manufacturing engineers. I try to teach them all to become the Jack of all trades and the Master of TRIZ. TRIZ is an acronym for the theory of inventive problem solving which is great tool to use for helping solve problems, better, cheaper and faster. One particular day working in a solar plant a few years ago, a production technician came to me and said, "last night we started to have problems with the stringing machine and we had to shut it down due to all the failures." A stringing machine is an automatic device that picks up thin (in our case brittle crystalline silicon) solar cells and positions them on a fixture as thin solder coated ribbon wire is attached (soldered) in a series or "a string". This attachment is made by a computer controlled soldering head that provides slight pressure and intense heat for a very short amount of time. Well, it seemed sometime the previous night, a huge amount of failures were discovered. This spike in defects from just one of the four stringing machines was producing strings that had cells loosely attached to the ribbon wires and 10-15% of the cells were cracking in what looked like a random occurrence. Cracked cells and non- attached ribbon strings are VERY bad things. The basic solar panel requires photons from the sun that hit the solar cells to knock electrons loose causing the flow of electrons from one side of the cell to the other side and electricity can not flow very well, if at all, in cracked cells or cells that are loosely attached to the wire ribbons.
The KEY to good problem solving, requires solving key problems in a good way.
Be a sponge and get as many details of the problem, history, system, resources, knowledge, and functional relationships as you can possibly absorb. We first asked why, why, why, and then why two more times, with few usable answers being supplied to me and my engineers. Why are they cracking, why now and why not during day shift, why are you coming to me, why has this happened in the past, why and what has changed? The fear of a line stoppage, not producing product overnight, the confusion of why now, and the lack of focus on where to start solving this problem were the real issues management was concerned with. Yeah, they did want the problem solved, but they really would have been just as happy if the problem just fixed itself, went away or cycled back to normal failure production rates. (Finding the cause of the problem and eliminating that as a variable needs to be a management focus, but that will be another topic on another day). So no one really had time to answer our probing questions with much detail because the work stoppage on that stringing machine affected production throughput. Since throughput was affected, this meant quality control was investigating and most of manufacturing was in full damage control, as the 10 plus year old stringing machine looked as it was destined for an expensive overhaul, replacement, and or the scrap heap.
Dust off the TRIZ problem solving steps.
See 40 TRIZ principles and 39 Parameters on Altshuller Institute website file: Matrix 4.0-C
We heard over and over from our technicians that everything was the same, NOTHING changed!!. Just that many cells were not sticking to the strings and a bunch of them were cracking. They tried to adjust the machine, and now it seems to be worse. So facing a contradiction of nothing changed, but something changed; we began with reviewing the 39 TRIZ engineering parameters to see which ones applied to our problem. We needed to think about what parameter(s) changed and which parameter(s) got worse as a result of some of those changes. The big things to learn are, what changes might have been overlooked, or what issues are not fully understood that could lead to the root cause of problem?

The 39 TRIZ Paramerters are a simple list of; "What physical things can change?, what can designers CHANGE?, or in this case what DID change without the designers knowing about it?" Something had to have changed, if not it would still be the same throughput and very low failure rates, so we started with the 39 parameters.
The team naturally gravitated and focused on the usual suspects of speed, time, power, temperature, and force which are just some of the 39 parameters. Too much force, will crack the cells, too little temperature and solder doesn't flow and melt to solar cell. Too little force and the ribbon is not held to the cell and does not properly transfer heat to melt the solder. Too fast and solder doesn't have time to solidify on cell. The 39 parameters also focused the team to look at capacity/production and we then looked at accuracy of manufacturing, and volume of mobile object. "Volume of object" was a key parameter that could have been easily overlooked had it not ben on the 39 parameters list. Key, because nobody thought to check the VOLUME of the thin ribbon wire, after all it is copper wire with a solder coating applied all around the copper in what we thought was a controlled processing plant. Plus the ribbon was in the stockroom and had passed both supplier quality checks and our internal manufacturing quality inspections, or had it?
After some measurements and some sectioning of solar cell and the thin metal solder coated wires, we found some anomalies. Upon digging into discrepancies of parts and inspection reports, we called quality control, manufacturing, purchasing and engineering into the War Room. Like a good mystery novel solved by the great Sherlock Holmes, we said we believe we have found your culprit to the cracked cells and we laid out the chain of events that led to the stringer machine shutdown. And to everyone's surprise..it was not the cells. It was the thin solder coated wires. They were not wires with THIN coatings of solder, but thicker, and then thinner, and then thicker again (inconsistent) solder coated wires. This variation (which was out of specifications) in the ribbon like wires that had thicker solder made the automatic assembly machine heat and pressure (force) unable to melt the solder, so the cells did not stick. And the thinner solder coated sections made the heat and pressure force crack the cells. But we found out that operators on the 3rd shift had increased the force and then decreased the force, and then increased the heat applied to melt the solder in attempts to improve the process. All these attempts were in vain to get a better ribbon to solar cell bond output. This was after the initial cells did not stick and cracking occurred. Many more strings could have been produced that were functional had the incoming wire ribbon been rejected when it was found to be out of spec. The determination that thicker solder on wire ribbons could be used as is and could only be a good thing by allowing more solder to melt which would increase bonding of the ribbon to the solar cells was NOT the correct thought process to use discrepant parts.
Mystery solved, problem solved. TRIZ gave problem solvers a repeatable format to follow when trying to think what could go wrong, what did go wrong, and how some of the 39 Parameters can drive the cause and effect relationships changes in manufacturing processes. Now Quality better understands the engineering specification thickness on ribbon wires and the simplified use of 39 TRIZ parameters to help dissect problem solving. The cause and effect ramifications of variable solder thickness is now understood better by everyone involved in this failure mode, and a serious production variation has been corrected.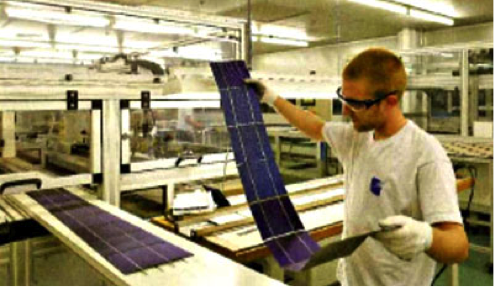 This photo shows a properly connected string of nine solar cells.
Photo from www.noblelight.net