We will talk about HOW to use all modules of TRIZ as a complete and harmonic system in combination with other proven methods in the most effective way. TRIZ – Technology for Innovation is represented by TRIZ Innovation Roadmaps for Projects Creation & Problem Solving
We included in TRIZ Innovation Roadmap together with TRIZ modules other proven methods in order to create a complete (almost complete) set of tools for the Conceptual stage of Product/Process design (Fig. 1):
Value Analysis & Value Engineering

Root-cause analysis - RCA

Failure Modes and Effects Analysis – FMEA

Hybrid (alternative) system design

Trimming

Hybrid Concept Design

Concept Scenario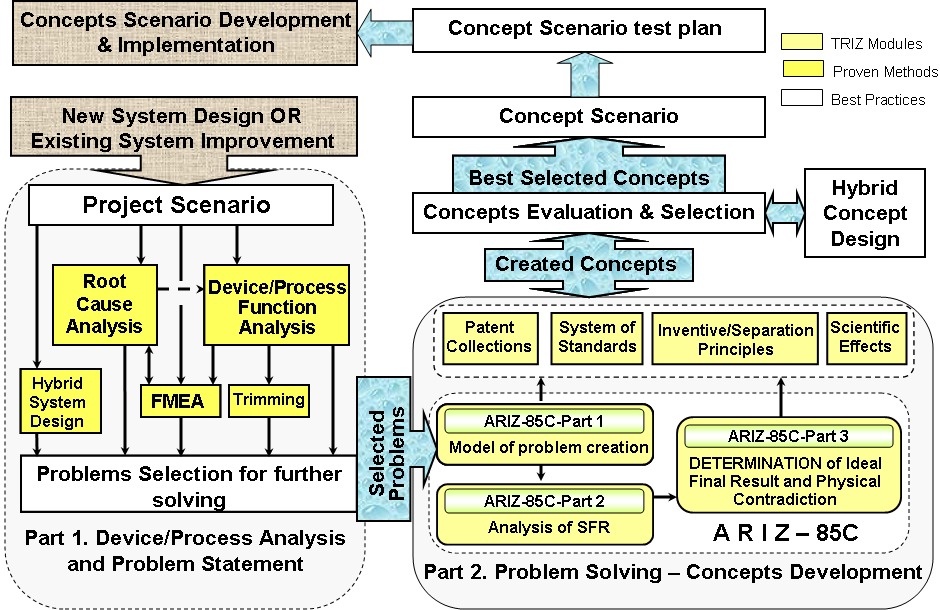 About the Author:
Isak Bukhman, TRIZ Master & 6σ BB, President & Global Consultant of TRIZ Solutions LLC,
Vice President of Altshuller Institute for TRIZ Studies.
Isak is a TRIZ, Value Methodology (VM), and Six Sigma specialist with more then 35-year practice in the product/process development and manufacturing areas. Isak has spent 7 years at IMC (Invention Machine Corporation) as their chief methodology specialist and now works as independent global consultant (owner of TRIZ Solutions, LLC ). During the last six years he guided development of 78 innovation projects in 11 countries for 39 world leading companies such as Philips, Mattel/Fisher-Price, Microsoft, Shell, Samsung, POSCO, Masco-Behr, Medtronic, Xinetics, Henkel, Delphi, Baker Hughes, J&J, BaoSteel, NXP, Intel, Savannah River Site, etc.
Isak has delivered numerous basic and advanced training seminars (some of them together with Mr.Genrich Altshuller), and educated and trained thousands of Managers, Engineers, and Researchers in TRIZ/Value Methodology, and in Product/Process Evolution and Development.
In 80's Isak dedicated about 7 years for children/juniors education of creativity (TRIZ) in his native country Latvia.
Tel: (617) 926-7145; cell: (617) 218-7415; Skype id: bukhman
This email address is being protected from spambots. You need JavaScript enabled to view it. www.TRIZSolution.com