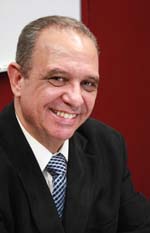 Research on the future of TRIZ:
Steps toward the Integration of TRIZ, BOS and Design Thinking
Dr. Noel León, ITESM, IM&ST, AMETRIZ México
Everything has changed, is changing, and will continue to change. At the Mexican TRIZ Association AMETRIZ, we are looking for ways of hybridizing TRIZ with other innovation and business tools and strategies as Blue Ocean Strategy and Design Thinking considering contributing to improve the effectiveness of the innovation process.
Blue Ocean Strategy is a business strategy book that illustrates what the authors believe is the best organizational strategy to generate growth and profits by suggesting that an organization should create new demand in an uncontested market space, or a "Blue Ocean", rather than compete head-to-head with other suppliers in an existing industry.
Applied Design Thinking is considered Strategic Innovation with the ability to combine creativity in the generation of conceptions and resolutions, empathy for the perception of a problem, and wisdom to analyze and fit solutions to the context. The basic ideas of our ongoing research are presented with the aim of contributing to the evolution of TRIZ as a structured way of inventive problem solving that may impact in enhancing the effectiveness of innovation and business strategies.
Perhaps a new concept "Systematic Design Thinking" may be emerging?
Noel León - Resume
Dr. Noel León holds a degree in mechanical engineering for the design of agricultural machines, as well as a PhD in mechanical engineering (summa cum laude), both from the Dresden University of Technology, in Germany
He specializes in Product Design, Design Theory, and Computer Aided Engineering. He is active in the fields of multiphysics simulation, evolutionary algorithms, Quality Function Deployment, Blue Ocean Strategy and the Theory of Inventive Problem Solving (TRIZ). He is Emeritus Professor at Monterrey Tec in Mexico where he teaches Product Design and Computer Aided Engineering at the Master Program Manufacturing Systems.
Some of his recent research has involved the innovation and development of systems for solar thermal energy as vacuum solar collectors, thermal batteries with phase changing materials, Fresnel lens for solar tracking with minimum costs, hybrid vehicles with Stirling engines and thermal batteries, among others. He holds 15 issued patents and has applied for 22 more.
Some of the awards and prizes received:


Annual technical scientific merit award: for being the most prominent in the scientific work in 1988, 1990 at the technical Superior Institute of Holguin, Granted by the Minister of Higher Education of the Republic Cuba.



Award to the teaching work and research at ITESM, 1999



Award to the teaching work and research at ITESM, 2004



Romulo Garza Prize Professor inventor by Patents and Licensing of the ITESM system, 2013

INC Monterrey award in November 2013 for the Mexican Professor with the biggest number of applied and issued patents
He has delivered courses in QFD and TRIZ for more than 100 enterprises in Mexico and other Latin American and European Countries as Columbia, Chile, Peru, Panama, Germany, and France.
He is member of the Mexican National System of Researchers, member of IFIP WG5.4 Computer Aided Innovation and Honorary Chairman of the Mexican TRIZ Association.